Oyster Festival: Saturday and Sunday, May 21 and 22, at Bowen's Wharf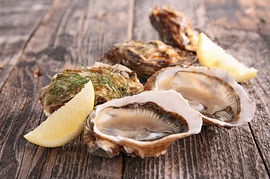 You know about Newport 's many festivals such as the Classical, Folk and Jazz music festivals. Another reason to visit are the Food festivals! Kicking off this season is The First Annual Bowen's Wharf Newport Oyster Festival on Saturday and Sunday, May 21 and 22.
Bowen's Wharf has long supported and promoted local, RI maritime businesses. The aim of the new event is "to raise awareness of the Oyster Aquaculture industry in RI and the people involved in it" (whatsupnewport.com). Folks will have the opportunity to meet individual oyster growers and learn more about this increasing segment of the economy. Oyster Aquaculture is joining other fishermen, shell-fishermen, and lobstermen as an expanding contributor.
All varieties of delicious oysters (and there are many!) that come from RI waters will be featured. It is a family friendly event with a shucking contest, live music and of course, plenty of food and drink from several outstanding local restaurants. It all happens on the historic Bowen's Wharf waterfront, rain or shine. Check Ivy Lodge availability and plan a visit. Food lovers are already booking for the next great food event, The Great Chowder Cookoff on June 18. That will be followed by the Newport Mansions Wine and Food Festival on September 23, 24,25 and the Bowen's Wharf Seafood Festival, October 15 and 16.
Newport is full of terrific restaurants that will provide an unforgettable dining experience any time of the year. Ivy Lodge is the perfect place to stay while you enjoy exploring all of the gastronomic delights that The City by the Sea has to offer.