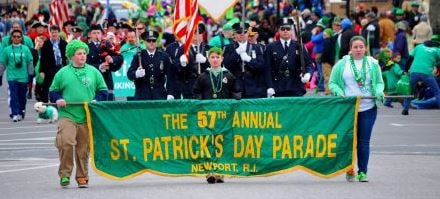 When admiring the historic buildings of Newport you may stop and wonder who built some of this beautiful architecture and parks we see today? You would be surprised to hear that a lot of the early production in Newport was engineered by Irish immigrants long before Newport's infamous "blue bloods" transformed the city into their lavish summertime resorts. During the Gilded Age, Irish immigrants arrived to our quaint Island of Aquidneck to work the coal mines in the nearby town of Portsmouth and more specifically, the Emerald Isle immigrants began to settle in what is now known as the Fifth Ward. With many Celtic sights of interest including Fort Adams, St. Mary's Church, and St. Josephs cemetery, we honor our past and present Irish with a month of fun activities for all. Come and enjoy what will be a wonderful experience for you and your loved ones with a great get away at the Ivy Lodge Bed and Breakfast.
Schedule of events include:
March 15th:
Saint Patrick's Day Parade
The 58th Annual Newport Saint Patrick's Day Parade will be held, rain, snow, or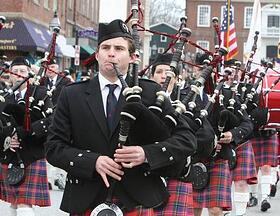 shine, on Saturday, March 15th 2014. It will begin at 11:00am from Newport City Hall and will proceed to Carroll Avenue at Saint Augustin's Church in the heart of the Fifth Ward. The parade this year is estimated to last 2 hours and will include Pipe Bands, Marching Bands, Fife & Drum Corps, Clown Units, reenactment units, and a host of local, state, and regional organizations including police and fire units, social/fraternal organizations, Boy Scouts, Girl Scouts, Schools, and non-profits.
8th Annual Saint Patrick's Day Family Celebration March 15, 2014
1:00pm to 4:00pm at the "Hut", Golden Hill Street, Newport, RI 02840 (Behind the Newport Public Library)
This event is a non- alcohol event. There will be entertainment with; Bag Pipers, Irish step dancers, Tony the Dancing Cop, pirates, and more. There will be a "How Green IS I" contest with cash prize and a $100 cash door prize! There will also be giveaways. Entry is free!
Enjoy a classic good time at no cost and a chance to win prizes and money!
Celebrating the Irish at the La Forge
La Forge Restaurant located at 186 Bellevue Avenue; enjoy great food including Corned Beef & Irish beverages. The fun filled night will include live music and sing along with artist David O'Manuel. Event starts immediately following the parade until 5:00 pm; Returning at 7:00 pm until 11:00 pm
SUNDAY - 16th
Mass in Honor of St. Patrick
St. Mary's Church, Spring Street & Memorial Boulevard, Newport. 11:00am.
The Mass is in memory of deceased AOH and Lady AOH members and the victims of the great Famine.
The principal celebrant will be Fr. Francis O'Loughlin.
Church built 1848 - 1852 by Irish-American Architect Patrick Keeley and dedicated to Mary, 'Our Lady of the Isle'.
Museum of Newport Irish History Interpretive Center
Learn about Irish immigration to Newport County from the 1600s to the present.
Open Noon - 4:00 p.m.
648 Thames Street, Newport. (401) 848-0661
Members free; others by donation.
MONDAY - 17th St. Patrick's Day
Mass in honor of St. Patrick
St. Augustin's Church, Carroll Avenue, Newport
8:00am
Celebrant: Father John McNulty
FRIDAY - 21st
Celtic Music in the Mansion with Robbie O'Connell.
Robbie is an Irish folk singer who began his career by performing with his uncles, the Clancy Brothers
Linden Place Museum.
500 Hope Street Bristol.
401 253-0390
7:30 pm. [Note: There are no tolls on the Mount Hope Bridge on Friday evenings!]
Tickets: $20/$16 for Linden Place members
Advance reservations recommended.
For more information:www.lindenplace.org
Join us at the Ivy Lodge this March for a celebration of Irish heritage in Newport. From events including Irish step Dancing on Forty Steps, to a traditional meal of corn beef and cabbage dinner, and to the largely anticipated 58th annual St Patrick's Day parade, all month long will be a tribute to all things Irish here in Newport.
For more scheduled Events for Irish Hertage Month please visit: http://www.aohnewport.org/
Written and Published By: Elyse Assistant Innkeeper Ivy Lodge