Now you can enjoy two Hall of Fames this summer in beautiful Newport, Rhode Island. First the International Tennis Hall of Fame, located just a short stroll up Bellevue Avenue from Ivy Lodge, just re-opened after a complete renovation. Wonderful new features include "Call the Match" which lets you announce your favorite all time players in a match. Anyone for Federer versus Nadel one more time? Or Serena versus Maria? The Museum also contains interactive exhibits,tennis inspired art, and a Roger Federer hologram to name only a few. The story that is the history of Tennis is told through the lives of the members of the Hall of Fame.
Speaking of Hall of Fames, the Ivy Lodge Bed & Breakfast in historic Newport, was just named to the Trip Advisor Hall of Fame. This recognition tells and important story- that the Ivy Lodge consistently earned top rankings from TripAdvisor travelers over the past 5 years. Once you visit the Ivy Lodge, and stay in one of our magnificently appointed rooms, you will be able to say that you vacationed in pure hall of fame style.
.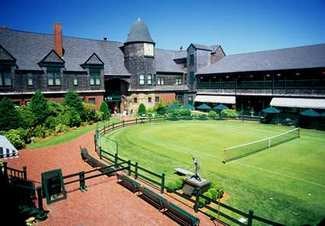 Plan your Hall of Fame vacation at the Ivy Lodge. Then spend your first day at the spectacular Tennis Hall of Fame. The Museum is open daily 10-5. It is open 10-6 during July and August. Admission is $15 for Adults with Children under 16 admitted for free. Ask your friends at the Ivy Lodge about discounted passes.
This year's Hall of Fame Championships and events will be held July 11 through 19. The Enshrinement Ceremony and Weekend for the Class of 2015 Hall of Fame inductees is July 18 and 19. Contact us to check our availability, and week-day lodging specials that include tickets to Hall of Fame tennis Tournament. Come and stay in our Van Alen room. You'll feel like a champion!!
Information contained here thanks to the websites of The International Tennis Hall of Fame and Museum 194 Bellevue Avenue newport, RI 02840 (401-849-3990). www.halloffamechampionships.com and www.tennisfame.com,