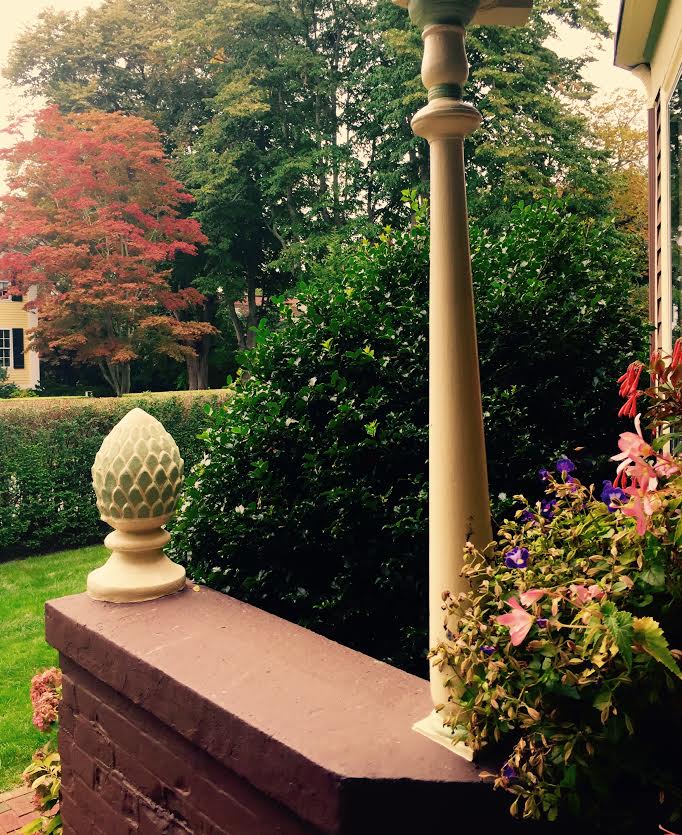 Snapshot of the Ivy stoop by Bliss Clemmer
The air is crisp, pumpkins are ripe, and the apple cider is warm, but where or where is the foliage? Our sources say that we will start to see New England's fall canvas in all of its glory around mid-October, peaking in late October. Although we must wait for now, this gives us plenty of time to plan the perfect pick nicks, hikes, and daytrips. And we locals will tell you, paying a visit to our unique and beautiful coastline is also a must during your fall escape to Newport!
We've put together our list of favorite sites for you, to enjoy the full splendor of the fall colors and ocean outlooks. So grab a blanket and a lunch, sit back, and enjoy the view! And if you're looking for a charming B & B, with oh-so-handsome facade in the fall (if you don't mind us saying so), check out our availability at the Ivy Lodge Inn to book the perfect fall getaway! http://www.ivylodge.com/
Beavertail State Park
Located in Jamestown, with its rocky overlooks, tidal pools, and many trails, Beavertail State Park is an excellent choice for hiking and site-seeing. Did we mention it is also offers one of the finest ocean views in RI? For more information, visit: http://www.riparks.com/Locations/LocationBeavertail.html
Watson Farm
With over 250 acres of land, this sustainable, family farm offers self-guided walking tours and gorgeous views! They also raise their own 100% grass-fed cattle and sheep, and their unique wool blankets sellout by Christmas, so be sure to check out the farm to buy your very own! For more information, visit: http://www.historicnewengland.org/historic-properties/homes/watson-farm
Rose Island Lighthouse
Nestled on Narragansett Bay in Newport, the Rose Island Lighthouse is a must-see during your Newport visit. You can view from afar or even take the Newport-Jamestown ferry to the location, but make sure to call the museum office to schedule a visit!
For more information, visit: http://www.roseislandlighthouse.org/come_for_day.html
Roger Williams Zoo
Located in Providence, RI, Roger Williams Zoo is certainly worth the drive from Newport for a spectacular daytrip. Their animals and exhibits are stunning, and the fall features a nightly "Jack-O-Lantern Spectacular" with over 5,000 carved pumpkins along the park's wetland trail. For more information, visit: http://www.rwpzoo.org/jack-o-lantern-spectacular#ad-image-0
Green Animals Topiary Garden
This historical Portsmouth location is sure to bring out the kid in all of us with its amazing animal-shaped bushes and antique toy collection. This is a great spot for losing yourself to the happiness and fantasy of the beautiful gardens, especially in the fall! For more information, visit: http://www.newportmansions.org/learn/landscape/green-animals-topiary-garden
Cliffwalk
Quite possibly our personal favorite location, the cliff walk is one of the best trails to experience the breath-taking coast and Gilded-Age architecture of Newport. A great place for a walk and pick nick that opens up right to Easton's Beach! For more information, visit: http://www.cliffwalk.com/
Click to edit your new post...